BEACH
The sand beach is the ideal place to swim and play in the sand. It is a shallow and protected water area for the kids to swim and the perfect place for the adult supervision to relax on the board walk on one of our patio chairs at a covered table.
PLAYGROUND
Enjoy a game of badminton or volleyball on our mowed grass playground. Or try your skills at our tetherball court (only one at Crane Lake). Toss some horse shoes, shoot some basketball, or play a game of croquet. Lots of fun and enjoyment to be had on our playground.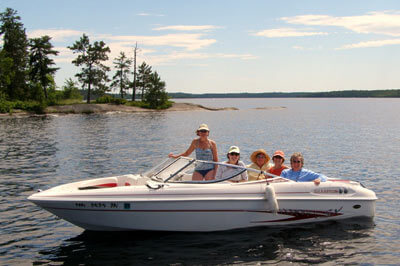 INTERNET
All cabins have free high speed internet and WIFI available. There is compete coverage over the resort area.
EXCLUSIVE FISHING
We have access to a boat on a lake within the VNP. It is Mukooda Lake known for its great bass fishing. Go to our Fishing page for more details.
AREA & BOAT ORIENTATION
We provide you with a local area map and assistance to better inform you on navigating the waterways. Our goal is that on day one you feel comfortable boating in our area.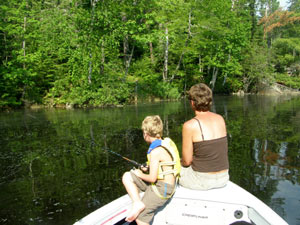 MORE FREE SERVICES!
Automobile and boat trailer parking
Boat mooring
Boat cushions and life jackets
Fishing Map
Battery charging
Ice and freezer space
Pets stay free
Fish cleaning facility
Grills with Charcoal
High speed internet
Wi-Fi
OUR PERSONAL GUARANTEE
We personally guarantee that the bill you receive at the end of your stay will not have any hidden or surprise charges. Need a bag of charcoal? No problem, it's free. How about some ice? That's free too. Seldom do extra charges ever appear on a bill, and if they do, you'll be made aware of them before they happen... for example, gasoline for your boat would be extra. Just about everything else is included!